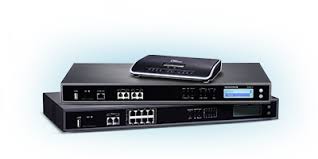 A powerful yet easy to manage voice, video, data, and mobility communications platform has never been more achievable than when anchored with Grandstream's series of UCM IP PBXs. The UCM series of IP PBXs offer an extensive set of unified communication features in an easy-to-manage on premise solution with no licensing fees, upgrade fees or costs per features. Our UCMs range from small and medium business deployments to small and medium enterprise solutions.
UCM6510
The UCM6510 creates an easily manageable on premise anchor to your communications network. This enterprise-grade IP PBX comes equipped with a suite of advanced call handling and network data features, all with no licensing and no fees. Its scalability offers deployments that can support up to 2000 users, and it supports E1, T1 and J1. The UCM6510 series allows businesses to unify multiple communication technologies, such as voice, video, surveillance, data tools, and facilities access management into one common platform that can be managed and accessed remotely. With features such as customizable call-routing, multi-level IVRs, call queues, auto-attendant, call detail records, multi-site peering, SIP video support, voicemail/fax forwarding to email and more, the UCM6510 delivers complete unified communications.
UCM6200 series
Designed to provide a centralized solution for the communication needs of businesses, the UCM6200 series IP PBX appliance combines enterprise-grade voice, video, data, and mobility features in an easy-to-manage solution. This IP PBX series allows businesses to unify multiple communication technologies, such as voice, video calling, video conferencing, video surveillance, data tools, mobility options and facility access management onto one common network that can be managed and/or accessed remotely. The secure and reliable UCM6200 series delivers enterprise-grade features without any licensing fees, costs-per-feature or recurring fees.
HA100
The HA100 offers an automated failover solution for the UCM6510 IP PBX. When connecting between two UCM6510, the HA100 constantly monitors the operation status of both UCM6510 and automatically switches the system control (including all of the connected telecom lines, network links, auxiliary devices, and all of the SIP endpoints previously registered on the primary UCM6510) to the hot-standby secondary UCM6510 in the event that the primary UCM6510 fails. It can complete the entire system switch between 10 and 50 seconds depending on the number of registered SIP endpoints. Thanks to its smart monitoring and automated failover capability, the HA100 is an ideal high-availability solution for the UCM6510 to ensure maximum total system reliability and uptime.