With Avaya 9608G IP Desk phone, you can use up to eight lines for the desk phone. The desk phone supports a traditional user interface and a graphical monochrome display.
Key Features and Benefits of Avaya 9608G IP Desk phone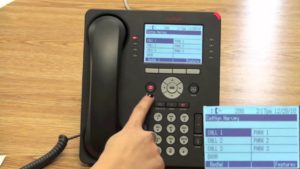 • Delivers high definition audio that can increase productivity by reducing fatigue and provides easier-to-understand multi-party calls through the wideband audio codec in the handset and headset.
• Simplifies call control on the display using softkeys for everyday functions such as transfer, conference, and forwarding; also makes it easy to perform everyday tasks such as quick access to the corporate directory.
• Provides visual queues that can speed task management through 8 dual-color Red / Green LED buttons.
• Improves flexibility through the support of a secondary Gigabit Ethernet port for a PC.
Enables high-speed call handling through the support of up to three 12-or 24-Button Expansion Modules.
• Offers consistency through a common interface with soft clients and mobile endpoints.
• Accommodates advanced unified communications solutions with Session Initiation Protocol (SIP) based infrastructure on the Avaya Aura platform.
• Supports reduced energy consumption and lower costs through Power-over-Ethernet Class 1 design with "sleep mode".
Specifications
Hardware
• Monochrome display—3.2 inches x 2.2 inches (8.2 cm x 5.5 cm)
• 8 buttons with dual LEDs (red, green)
• 4 softkeys
• Hard buttons for phone, messages, contacts, history, home, navigation cluster, headset, speaker, volume, mute
• Red LEDs for speaker, mute, headset, message, history
• 24 administrative buttons
• Wideband audio in handset and headset
• Full duplex speakerphone
• Ergonomic hearing aid compatible handset supports TTD acoustic coupler
• Message waiting indicator
• IC call alerting with 360-degree visibility
• Rich, classic and alternate ringtones Wall-mount and dual-position stand
• Gigabit Ethernet (10 / 100 / 1000) line interface
• Second Ethernet interface 10 / 100 / 1000 Mbps
• PoE Class (IEEE 802.3af) registers as class 1 device
Software
• SIP protocol support
• H.323 protocol support
• Standards-based codec support: G.711, G.726, G.729A / B, G.722 (G.726 is not available in SIP)
• Supports the following languages: Arabic, Brazilian Portuguese, Simplified Chinese, Dutch, English, Canadian French, Parisian French, German, Hebrew, Italian, Japanese (Kanji, Hiragana, and Katakana), Korean, Latin American Spanish, Castilian Spanish, and Russian
Minimum Requirements and Platform Support
• Avaya Aura
• Avaya IP Office
• HTTP file server
• Local or centralized electrical power through an 802.3af switch, or local power supply (optional)